Ajmer Tour
Set amidst the Aravali ranges, Ajmer is a city in Rajasthan boasting of beautiful Islamic architecture and heritage sites, especially the Ajmer Sharif Dargah. It's a popular destination frequented by large crowds of tourists drawn to its rich heritage and culture. Jaipur Car Rental's Ajmer tour packages are an excellent way to experience this city fully, no matter whether you are travelling alone or with someone.
The city of Ajmer is most famous for being home to the Ajmer Sharif Dargah, the tomb of Moinuddin Chishti, a great Sufi saint. Known for its impeccable Mughal architecture, Humayun built it and is visited by millions of people, all of the different faiths. You can also see several Jain temples, such as the Nareli Jain Temple and Ajmer Jain Temple.
Given its royal past, a trip to Ajmer warrants visiting Akbar's Palace, which housed the emperor and his troops; it comprises the Government Museum exhibiting weapons, paintings, sculptures, etc. In addition, you must see Adhai Din ka Jhonpra, a mosque built by Qutub-ud-Din-Aibak using the remains of Hindu and Jain temples. Another major attraction is Abdulla Khan's Tomb.
Dargah Sharif
Dargah Sharif, the tomb of Moinuddin Chishti is one of the holiest places of worship in India. Being the final resting place of the Gharib Nawaz Moin-ud-din Chisti, it is visited by millions of people every year. Khwaja Moin-ud-din Chisti was a great Sufi Saint. Women are allowed to enter the dargah.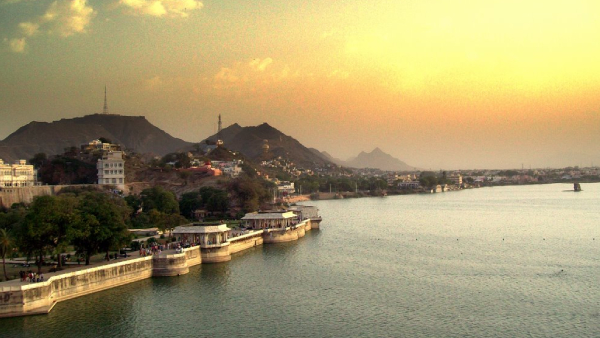 Ana Sagar
Ana Sagar is an artificial lake constructed in the 12th century AD by Anaji Chauhan, grandfather of the last independent Hindu king Prithvi Raj Chauhan. Spread over 13km, this lake features marble pavilions and gardens and is best visited during the sunsets when the views are extraordinarily marvellous.
Adhai Din ka Jhopara
Adhai Din ka Jhopara is a Masjid built by Qutub-ud-Din-Aibak, first Sultan of Delhi in AD 1199. It is believed to be constructed in two and a half days and that's where it gets its name. Though most of the ancient temple is in ruins today, the area of the mosque is still used as a place of worship.
---
Akbar's Palace
Akbar's Palace is the place where he and his troops stayed at Ajmer whenever he visited the Ajmer Sharif Dargah. It is now converted into a museum that portrays the age-old military weapons and exquisite sculptures, paintings and other artefacts of the Mughal era. It is also known as Akbari Fort & Museum.
Soniji Ki Nasiyan
Ajmer Jain Temple or Soniji Ki Nasiyan is a Digambar Jain temple dedicated to Lord Rishabhdev (Agnidev), the first of the 24 Tirthankara of Jainism. The main attraction is the main chamber, known as the Swarna Nagari "City of Gold", which has several gold-plated wooden figures, depicting several figures in Jainism.
Lake Foy Sagar
Lake Foy Sagar is an artificial lake situated on the Foy Sagar Garden Road in Ajmer. It's a popular picnic spot during the winter. The lake resonates with peace and serenity and offers a 360 angle view of the neighbouring Aravalli peaks.
---
---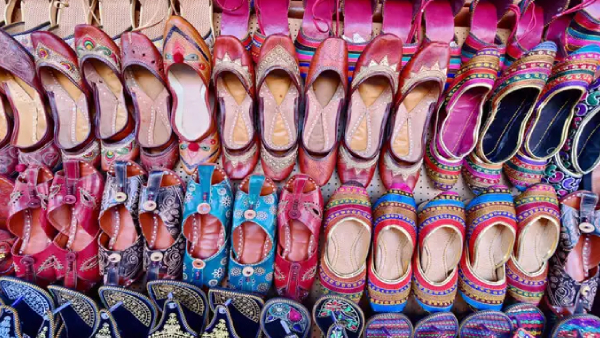 City Shopping
The lively markets of Ajmer are well-known for their exquisite momentoes such as embroidered apparel and shoes, silver and lac jewellery, black metal showpieces, handmade jute bags and more.
Nareli Jain Temple
Nareli Jain Temple is a beautiful marble temple with angular and strikingly appealing designs. The temple is situated on the ranges of the Aravali Mountains that makes the views from the temple more scenic.
Clock Tower
The Clock Tower at Ajmer was constructed in 1887 to mark Queen Victoria's Silver Jubilee which is why it is also known as Victoria Jubilee Clock Tower. It is a major landmark of Ajmer.