Alwar Tour
Alwar is the first major city that comes while travelling from Delhi to Rajasthan and is uniquely located at 150 km south of Delhi and 150 km north of Jaipur. Alwar is a hub of tourism with forts like the Bhangarh fort, lakes, nature reserves like Sariska Tiger Reserve and heritage havelis. Apart from being a popular tourist centre, Alwar also draws pride from its reputation of being featured in a number of Bollywood movies. It is also famous for the Mega Alwar Trade fair held at Dussehra Ground every year and handmade Papier-mâché (literally 'chewed paper'). Alwar is also famous for Alwar ka Mawa, a sweet preparation.
Surrounded by Aravali hills, Alwar is a pretty city of rich culture and heritage. The majestic fort, beautiful City Palace and the colorful markets make Alwar one of the most interesting cities in Rajasthan. Alwar has been one of the oldest of Rajasthani Kingdoms and one of the first Rajput states to align itself with the British empire.
Bala Quila
Bala Quila Fort stands majestically about 1000 feet above the Alwar city. The fort has 15 large and 51 small towers and the entire structure is adorned with marble columns and lattice window balconies.Strong fortifications, graceful marble columns and delicate latticed balconies make up the fort.Bala Qila can be entered six gates.
Sariska National Park
Nestled in the Aravali Hills over an area of about 800 sq. Km covering the grasslands, dry deciduous forests, cliffs and rocky landscape, lays the Sariska National Park, now known as The Sariska Tiger Reserve. This area was once hunting preservation of The Maharaja of Alwar.
---
Hill Fort Kesroli
The HILL FORT KESROLI is one of the rare heritage hotels in Alwar that has been in existence since the 14th century. Hill Fort-Kesroli is a great holiday choice for those looking for a relaxing weekend getaway from Delhi.It was built by the Yaduvanshi Rajputs, who are said to be descendants of Lord Krishna. Today, the fort has been converted into a heritage hotel.
---
Moti Dungri
Famous for its swanky palace, the Ganesh and Lakshmi Narayan temples, Moti dungri is a favourite spot of the tourist folk. Ganesh temple at the foot of the hill allures not only the devotees but also the sightseer with its picturesque settings.
Vijay Mandir palace
Situated at a distance of 10 kilometers from the center of the city of Alwar, Vijay Mandir Palace is said to have been built as a result of the whims of the eccentric King, Maharaja Jai Singh who was a patron of art and architecture and had a passion for beautiful palaces.
Neemrana Fort
History says that Neemrana Fort was built by the Yaduvanshis, believed to be the descendants of Lord Krishna. Its story is rife with conquests and defeats and it has passed from the Rajputs to the Mughals and the Jats, before finally coming back to the Rajputs.
---
Moosi Maharani
This cenotaph, built in the memory of Maharaja Bakhtawar Singh and his queen, Rani Moosi, reflects the Indo-Islamic style of architecture. The upper portion comprising columned pavilions and domed arches is made of marble while the lower section.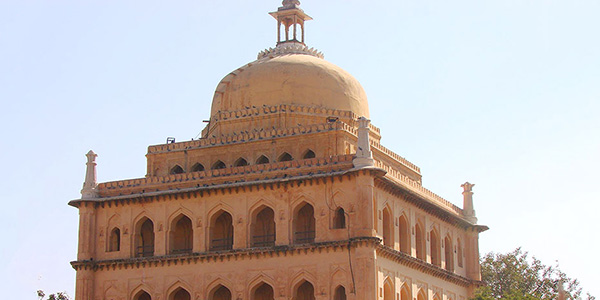 Fateh Jung Gumbad
This spectacular tomb, which is a combination of domes and minarets is an artistic marvel. Constructed from high quality sandstone, its massive dome can be seen from afar and is a blend of Hindu and Muslim architecture. It is dedicated to Fateh Jung.
Purjan Vihar
One has Maharaja Sheodan Singh to thank for this attractive garden that was conceptualised and constructed in 1868. A picturesque place, locally known as Simla (the Summer House) was added to this garden to provide respite from the blazing sun.