Jaipur, popularly known as the 'Pink City', is the capital of one of the most culturally rich states of India, Rajasthan. Built in the 18th century by Sawai Jai Singh, the city gets its nickname from the distinct pink shade of many of its old city buildings and palace complexes. Home to several UNESCO world heritage sites, Jaipur evokes a sense of royalty and grandeur within anybody who visits this wonderful city. We empower you to make the most fascinating memories with us and invite you to relish our legacy to travel, explore and celebrate life.
Jaipur Car Rental: Your Gateway to the Best Sightseeing Tours and Car Rentals in Jaipur
Welcome to Jaipur Car Rental, your trusted partner for a memorable sightseeing experience and top-notch car rental services in the enchanting city of Jaipur. With a focus on providing the best Car Rental in Jaipur and exceptional Car Rental for Sightseeing in Jaipur, we ensure your journey through the Pink City is nothing short of extraordinary.
Explore Jaipur's Treasures with Jaipur Car Rental
Car Rental in Jaipur
Our Car Rental in Jaipur service is your ticket to exploring the city at your own pace. Whether you're a solo traveler, a couple, or a group, we have a fleet of well-maintained vehicles that cater to your needs. Enjoy the convenience of traveling comfortably and independently as you soak in the rich heritage and vibrant culture of Jaipur.
Car Rental for Sightseeing in Jaipur
For those eager to uncover Jaipur's iconic landmarks, our Car Rental for Sightseeing in Jaipur is the ideal choice. We understand that the best way to experience this historic city is by touring its magnificent forts, palaces, and bustling markets. With our affordable and reliable car rental service, you can craft your own itinerary and visit attractions like the Amber Fort, City Palace, Hawa Mahal, and more with ease.
Hawa Mahal
Situated at Badi Choupad, Pink City of Jaipur, Hawa Mahal was built in 1799. It has 953 windows on the outside walls.The five-stores palace was built in the form of Krishna's crown because Sarai Pratap Singh was devoted to Krishna, the Hindu god.The mahal has a total of 953 small casements each with small lattice worked pink window, balconies and arched roofs with hanging cornices.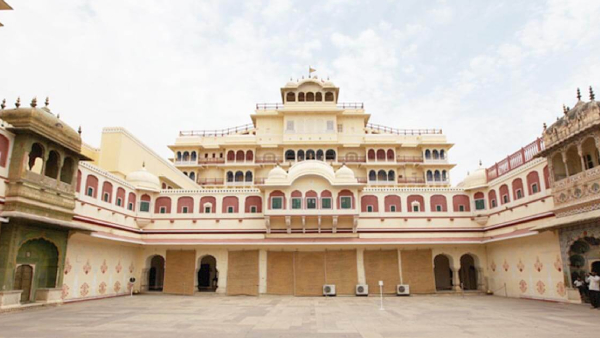 City Palace
City Palace has stood at the heart of the Old City of Jaipur for nearly three centuries, shortly after Maharaja Sawai Jai Singh II decided to relocate his court from the city of Amber. City Palace is more than a sand-colored regal abode–it's a sprawling complex of buildings built around a series of landscaped garden courtyards overlooking Jaipur and Lake Palace.
---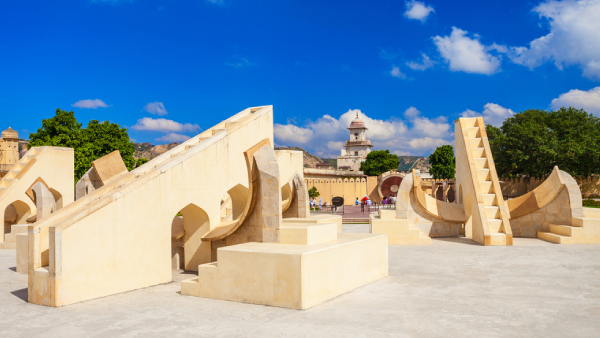 Jantar Mantar
Jantar Mantar consists of fourteen geometric devices that measure time, predict eclipses, track the location of stars and the Earth's movement around the sun. Samrat Yantra is the largest instrument in this observatory and it was used to forecast time. Plotting the shadow of Samrat Yantra, the time for eclipses and the arrival of monsoons can be calculated.
---
---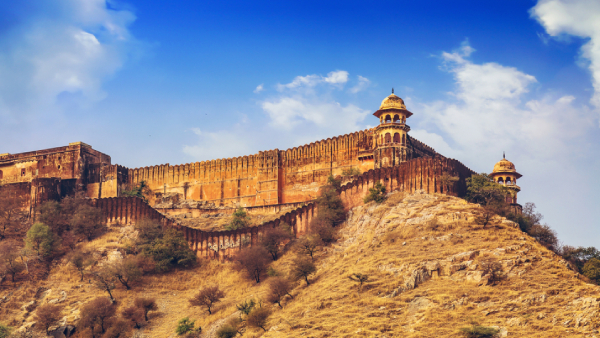 Jaigarh Fort
Jaigarh Fort is the most spectacular in the list of places to visit in Jaipur. This fort is situated on the rugged promontory of the Aravalli Hills, called the Cheel ka Teela or the Hill of Eagles. If the majestic appearance of Jaigarh Fort has to be compared with other forts and palaces in Jaipur, it will surely stand ahead of most.
---
Jal Mahal
Located in the middle of the Man Sagar Lake, this palace is also a fusion of Mughal and Rajput styles of architecture. Built in red sandstone, Jal Mahal is a five-storey building, of which four storeys remain underwater when the lake is filled. This, in turn, offers a breathtaking view of the palace and makes it one of the important Jaipur tourist places so if you are in Jaipur, Jal Mahal is one of the must-visit places in the tour list.
Nahargarh Fort
To get a panoramic view of Jaipur city, Nahargarh Fort is the ideal place to visit. Built by Jai Singh II, Nahargarh Fort was originally named Sudarshangarh and was later renamed as Nahargarh or the Abode of Tigers.Rooms in this fort are connected through common corridors and are well decorated with delicate wall and ceiling paintings.
---
---
Amer Fort
Cradled on the top of a hill near Jaipur lies the Amer Fort, one of the most magnificent palaces in India. Also commonly known as the Amber Fort, this majestic building with its maze-like passages and serpentine staircases is an architectural masterpiece and with significant importance in Indian history. Only 11 kilometres away from Jaipur, Amer Fort is clad in pink and yellow sandstone and is a part of an extensive complex.
Birla Temple
The magnificent Birla Mandir in Jaipur is a Hindu temple that forms a part of one of the several Birla temples located all around the country. Built purely out of white marble, the edifice of the Birla Temple is an amalgamation of ancient Hindu architecture styles and modern design. The walls of the temple are embellished with intricate carvings of Gods and Goddesses and words of wisdom from the Puranas and Upanishads.
---
Sisodia Rani Palace
Sisodia Rani Palace and Garden is located 8 kilometres from Jaipur on the Agra road. Laid out in Mughal style, it is painted with the legends of Radha and Krishna. The garden is multi-tiered and has fountains, water courses and painted pavilions. Maharaja Sawai Jai Singh II built it for his Sisodia queen.
---
Why Choose Jaipur Car Rental?
Quality Vehicles: Our fleet includes a range of vehicles, from compact cars to spacious SUVs, ensuring a comfortable and safe ride for all travelers.
Experienced Drivers: Our professional drivers are well-versed in Jaipur's streets and attractions, ensuring a smooth and enjoyable journey.
Flexible Options: Whether you need a car for a few hours or a full day, our flexible rental options cater to your schedule.
Affordable Rates: We offer competitive pricing for both car rentals and sightseeing tours, making quality travel accessible to all.
Customer-Centric Approach: Your satisfaction is our priority, and we go the extra mile to ensure you have a memorable experience in Jaipur.
Book Your Jaipur Adventure Today
Don't miss the chance to explore the Pink City's beauty and grandeur with Jaipur Car Rental. Whether you seek a leisurely drive through historic streets or a comprehensive sightseeing tour, we have you covered. Create your own Jaipur adventure and book your car rental or sightseeing tour with us today.
Experience the magic of Jaipur with the convenience and excellence of Jaipur Car Rental. Your journey begins here.